Int.Ch. S*Kattilaforsens Pippilotta Viktualia
* 11. Dezember 2014
black tortie tabby classic
NFO f 22
carries dilution and amber

GSD-4 normal (N/N)
HCM-normal 7.12.2015 - 9.01.2017 - 19.01.2018 (see PawPeds)
PKD-normal 7.12.2015
PK-Defizienz normal (N/N)
Our Swedish princess!
Pippilotta is a very big kitty, she stands on high legs,
has a very good body length and is very well proportioned,
and her tail is XXL, she proudly wears it like a train.
Her profile is long and dead straight, her eyes very beautiful in shape,
the ears large, excellently set, with a very nice broad base and the typical lynx tufts.
Her coat pattern is a great classic tabby, my personal favourite.
Well, frankly spoken we do not believe into her "tortieness" any more,
but we will not change colour for the time being as Lotti up to now had only 6 kittens,
and maybe therewill be an surprise next time.
But more probably we got tricked by the typical brick-red undercoat colour of the Amber carriers ;)

We have long dreamed of a kitten from this very special mating of
Kattilaforsens Elle Belle Bi and Skaujenta´s Hauk and
so much wished that a black tortie girl could come to live with us:
now she is here, sweet Pippilotta, and no matter if tortie or not, she is a dream!


Dear Tina, thank you for entrusting us with this princess!


März 2020:
Our Lotti, our big girl, now already 5 years.
She is simply a gorgeous cat, beautiful, self-confident and very affectionate.
A great Norwegian Forest Cat, very big, strong, with an eternally long tail, great coat, the head a nice triangle,
the profile long and straight as a die, great ears in size, shape and placement...
Lotti is a dream girl!
April 2019:
Lotti and I have one thing in common - as soon as we see a camera, we duck away ;)
Lotti with 4.5 years and 6.3 kg - a really big girl and
a very distinct cat personality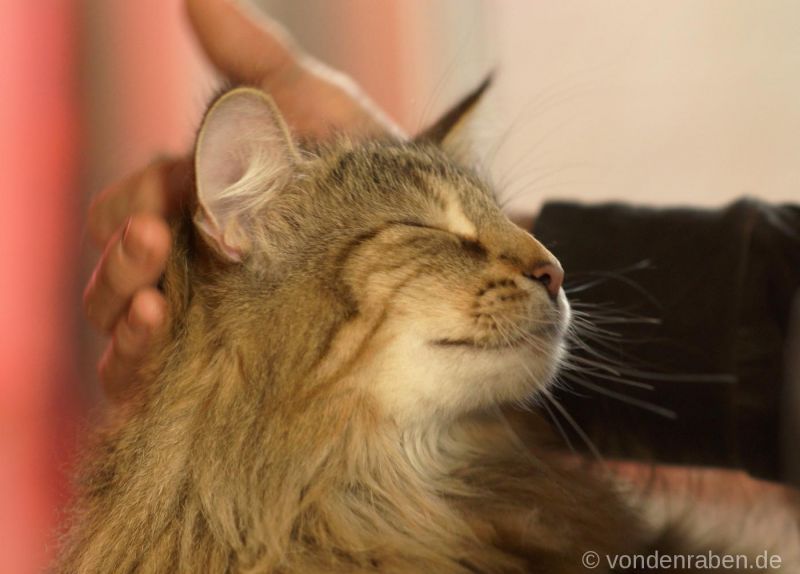 Anfang Januar 2017:
Lotti is such a grateful model, so now some more pictures of her ;)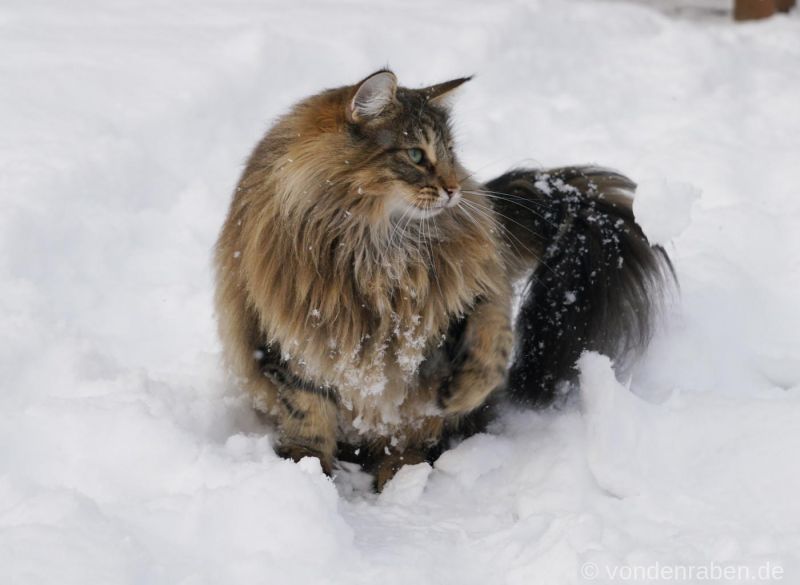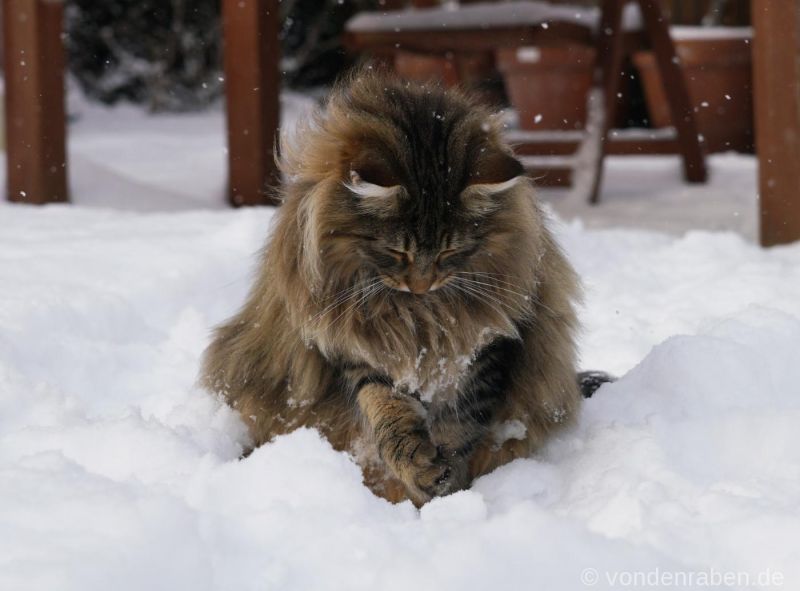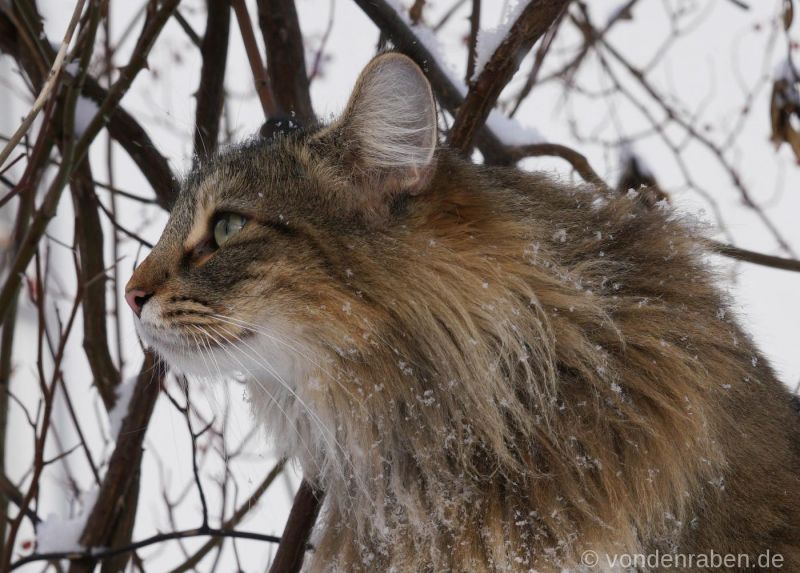 Pippilotta is 2 years now - a real temperament bundle & dream girl!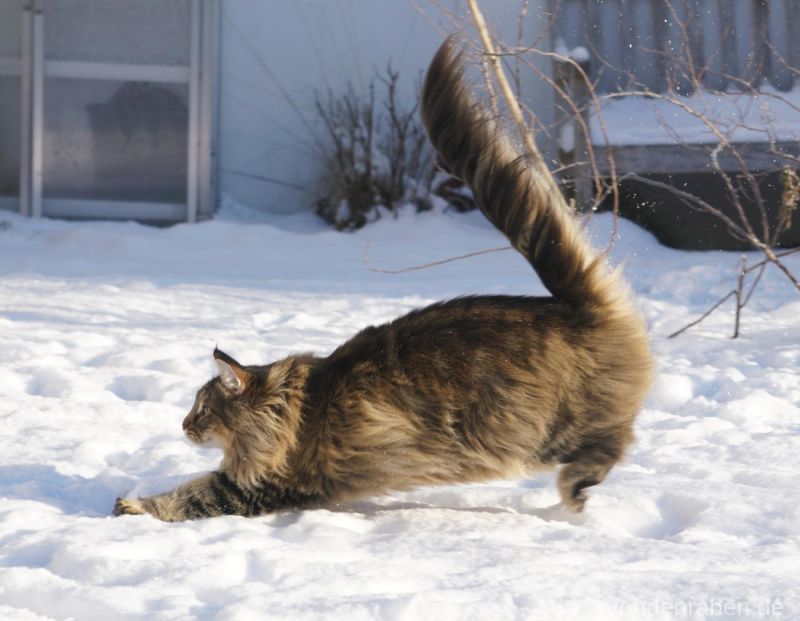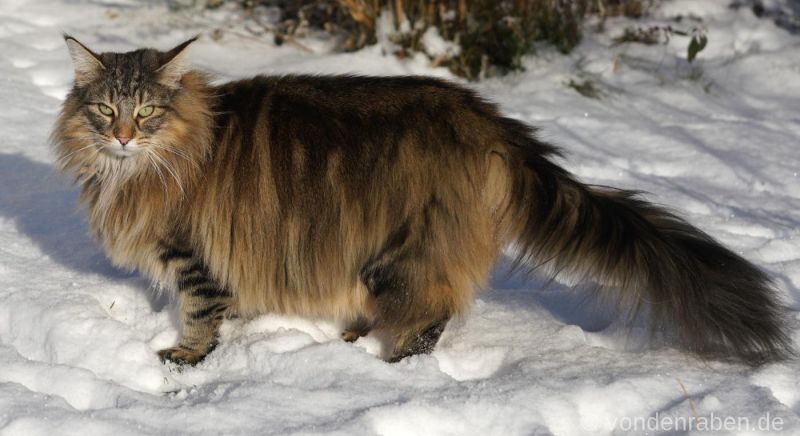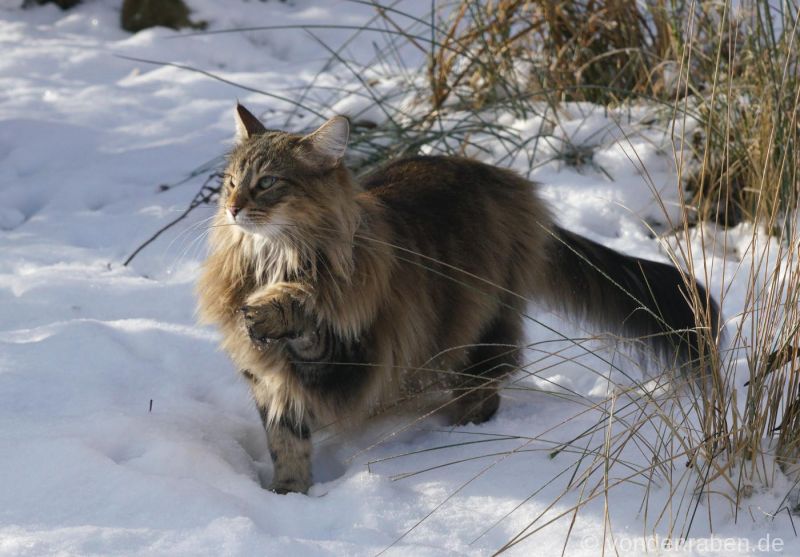 Mid-January 2016:

Pippilotta is simply beautiful!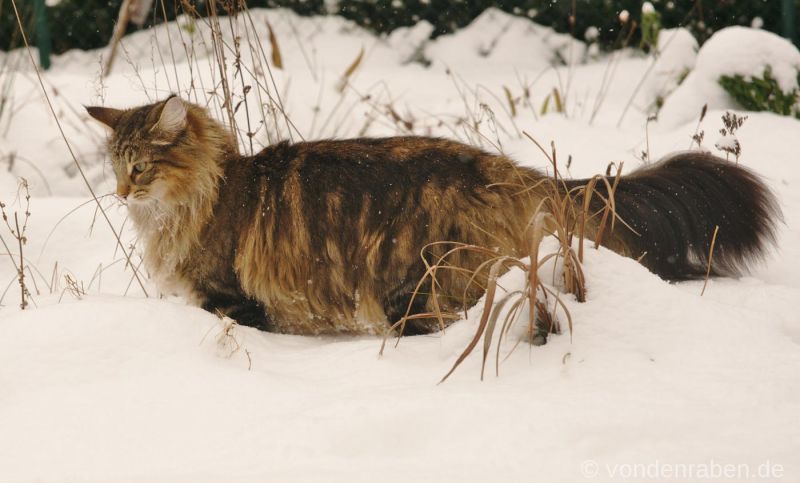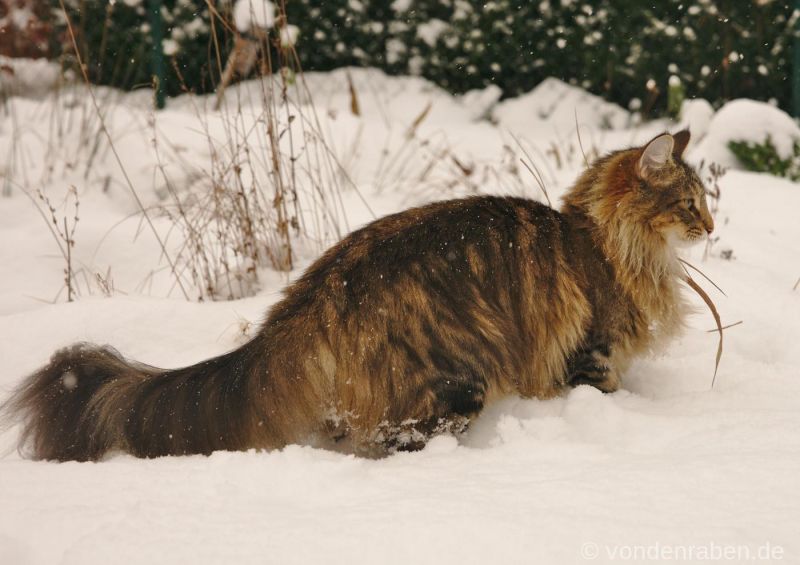 End of December 2015

Pippilotta is now one year old - she has become a wonderful young cat lady,
a real Norwegian girl, who shows already in her first winter
a great winter coat.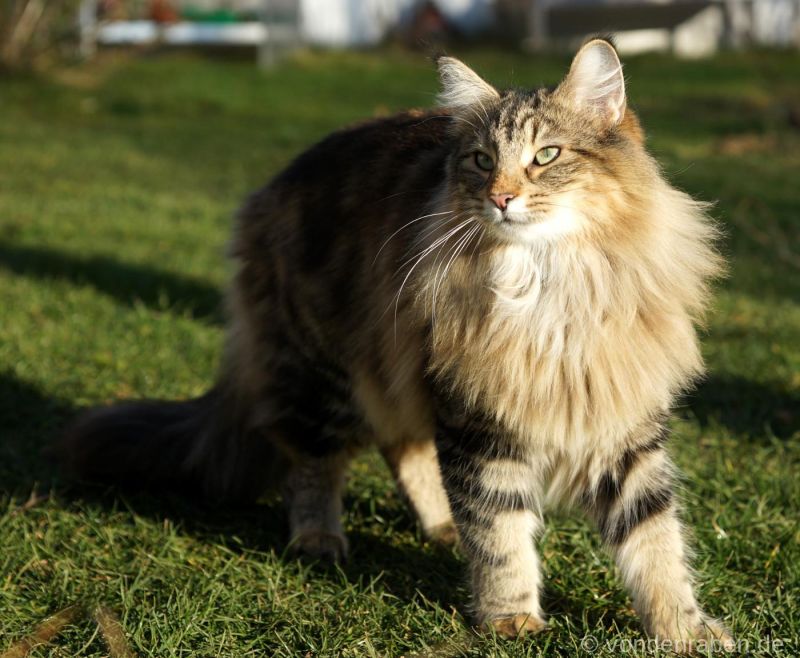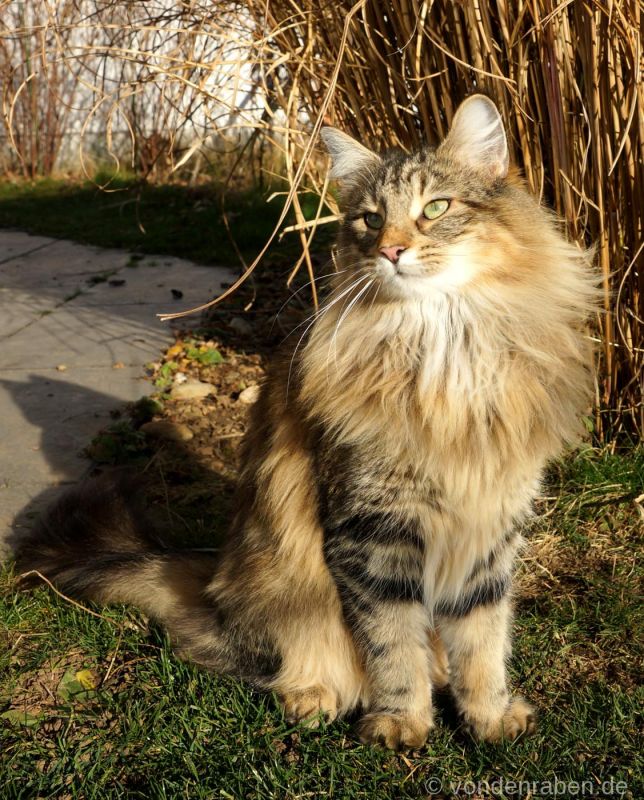 Lotti thinks it's time to clean up the garden ;)

Early September 2015
Lotti is now almost 9 months old and
simply wonderful.
Showing not only her great warm-brown tabby pattern,
but you can also see her squirrel tail here :)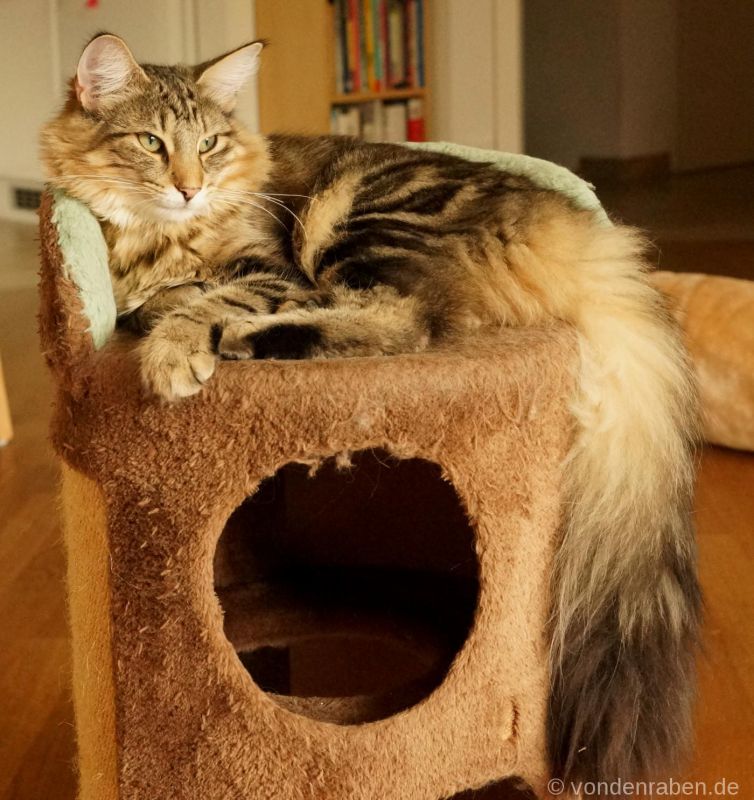 Mid-August 2015:
Lotti, beloved whirlwind!
Her perfect straight profile :)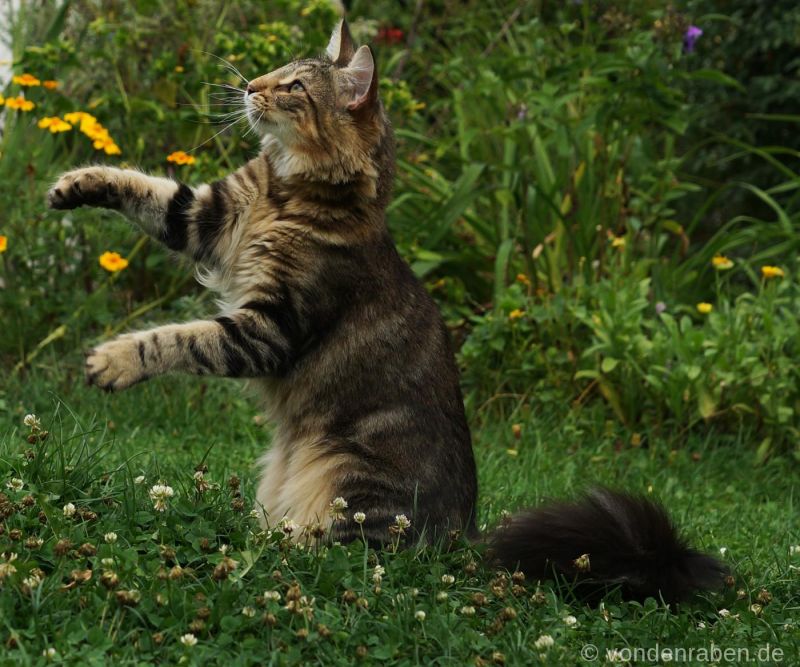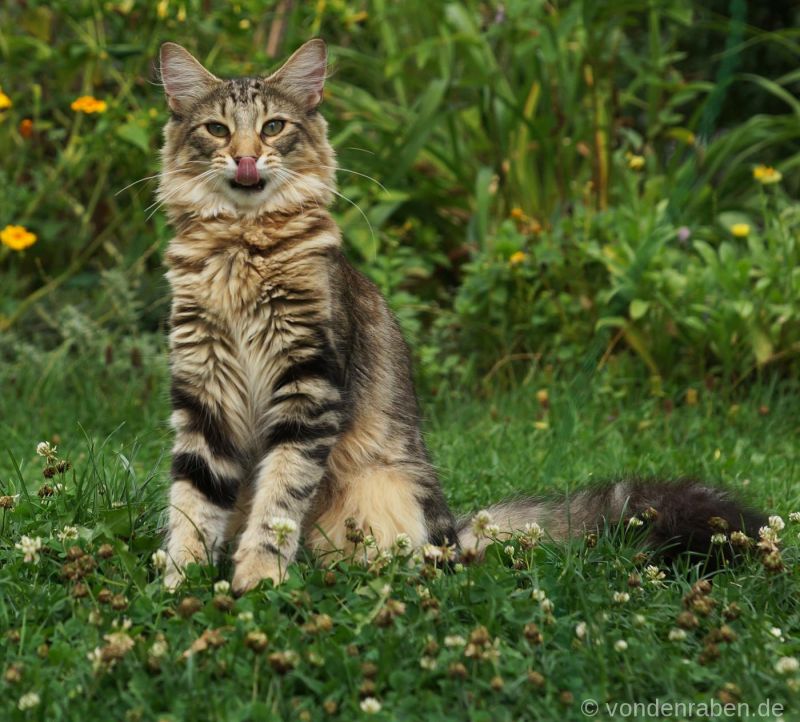 Lotti really has an incredibly long, bushy tail!
Here with best friend Orville, these two just like each other.

Mid-June 2015:

Lotti with half a year -
We are very satisfied with their development.
Slowly her tail is now bushier and also the frill is coming.
But it is still summer and temperatures are very well tolerated without a thick fur ;)
...she really seems to smile, sweet Lotti...
Cuddly kitty :-)
Exciting how warm and cool brown tones alternate in her fur.
And what a nose!

Mid-May 2015
Lotti with 5 months - only one month has passed since Lotti
has conquered her new home with a loud hiss.
In the meantime she has become an integral part of the family and
has made friends with all four-legged room-mates.
She is a really big girl and currently weighs 3.1 kg.
Like a little racehorse ;-)
On the following pictures you can see her beautiful tabby pattern and
the warm, reddish-brown colour of her fur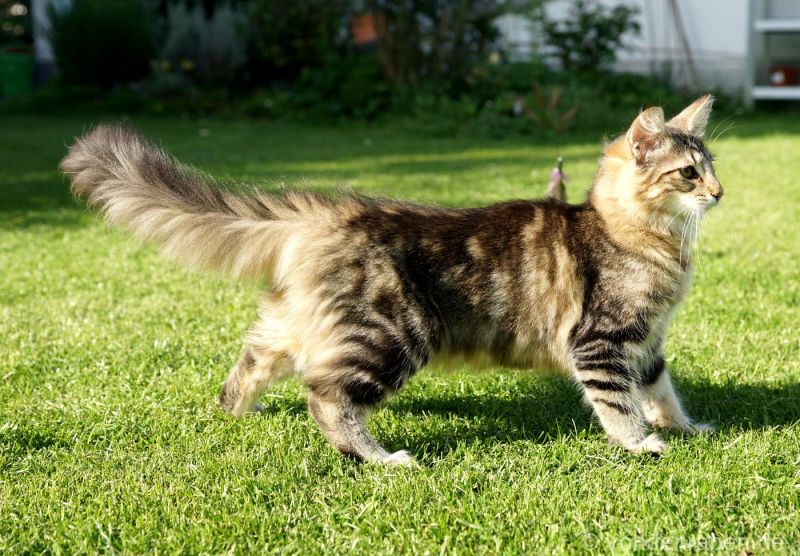 End of April 2015:
2 weeks and 3 days Pippilotta (we call her "Lotti") is now with us.
She is a clever girl, so she is now allowed to go into the garden without a leash - under supervision.
and what can I say:
today pictures of a very, very happy kitten :)
Romeo (Orville) and his Julia (Lotti) playing in the garden... we will practice the balcony scene later ;-)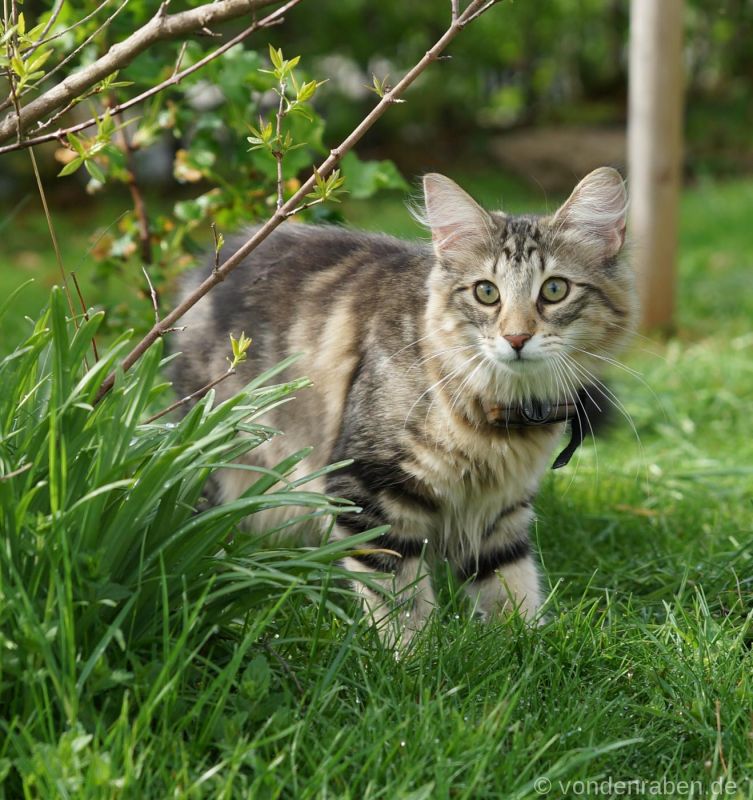 Mid-April 2015:
Pippilotta with exactly 4 months - this treasure has moved in with us three days ago and
keeps us on our toes ever since ;-)
Current weight: 2.7 kg
...almost falling asleep...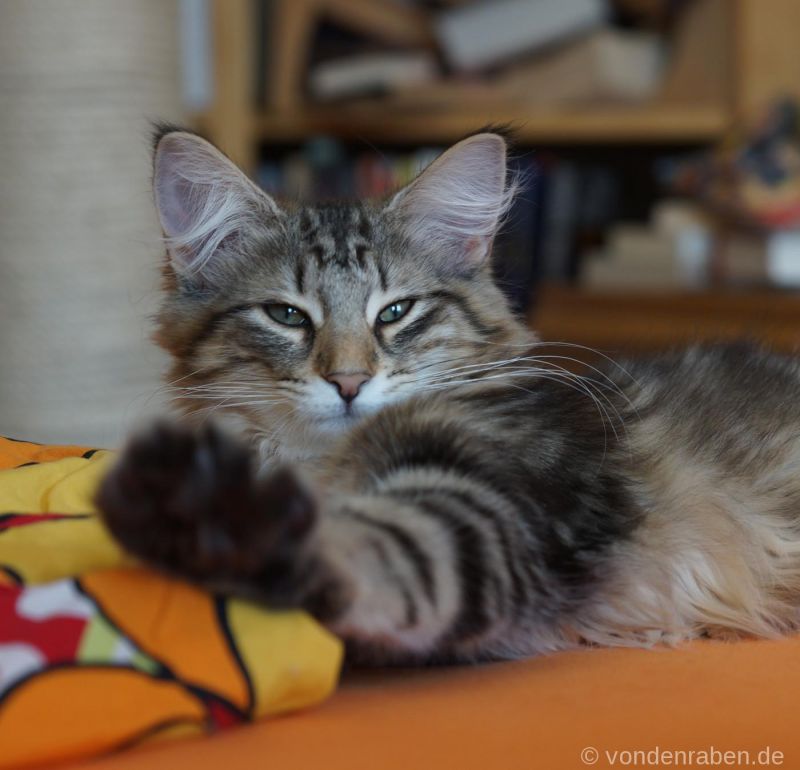 ... and sleeping :-)
Of course we've been to the garden too!
The little lady on the sun deck...
...and discovered something exciting over there :-)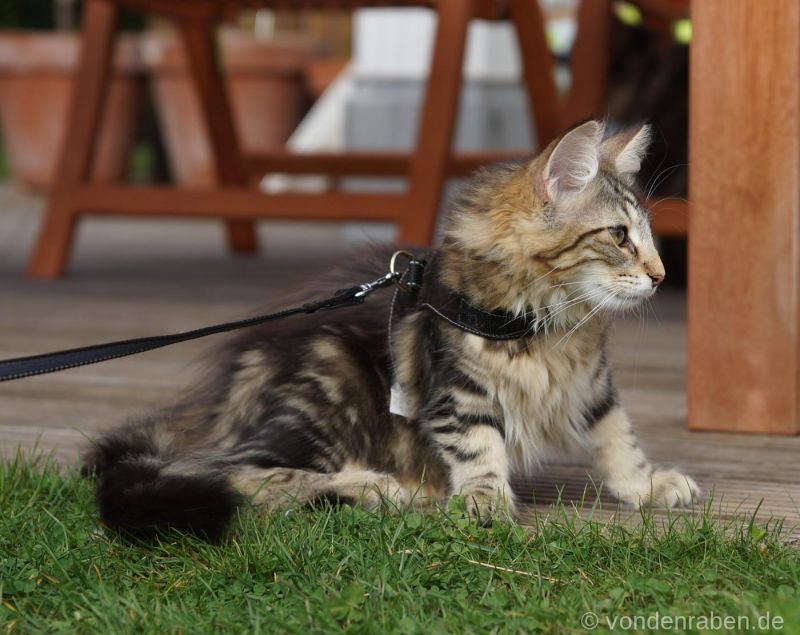 Sitting in the flower bed is an absolute must, the others are allowed to do that too, right?
And then recover from the excitement right on the bed :-)
In this picture you can see the red in her neck -
also in other areas at the back, the red coloring comes through visibly.
We are very curious to see how Pippilotta's colour will develop over the next few months.

Pictures from Pippilotta's first home in Sweden.
Thank you Tina, for the permission to show these here! :-)
And many thanks to Jill, Ida and Abbe, the Pippilotta in the first weeks such a
so loving home :) Lotti is the best socialized kitten you could dream of!
Pippilotta 9 days old
So sweet!

..... and whispering with little brother Fabbe